Armada – The New MyStake Minigame
We have never played a game like Armada, the newest addition to the MyStake family of Mini Games. The variety of mini casino games offered by MyStake never ceases to impress us. There has been a great deal of success with Chicken, Dino, and Icefield. One very significant feature that all of these mini games share is the opportunity to earn money. Because they all have a massive RTP ratio of 99%, the MyStake Minigames are the most lucrative game in the market. Armada involves guessing in a similar way to other games in this genre, but in a different way. Armada can only be played at MyStake Online Casino. This feature is not provided by another online casino provider. UpGaming, a business that specializes in making minigames, developed Armada as a special minigame for MyStake.

Armada Casino Game Review
The development of the newest MyStake Mini Game, Armada, was inspired by the history of the illustrious Spanish Armada fleet's numerous expansions. The game's concept was inspired by the well-known player-versus-player battleship game (Sea Battle). Armada is a type of online gambling game. The goal of the 10 by 10 hidden board is to predict how the naval fleet will be configured based on the information provided. In MyStake Armada, the classic Battleship game is played against the computer rather than other players.
Armada, like the other My Stake Mini Games, promises a 99 percent return to player percentage. Before you can begin playing at the MyStake casino, you must first deposit real money. To play the game, you must pay money. You put your own money at risk every time you play the game. You should play the game at your own risk because this page merely provides information and does not encourage, suggest, or obligate you to do so.
All games have a mandatory round bet that must be made with actual cash. Any player can participate, regardless of income level, because bets range from $0.02 to $1,000.
Game Rules
Anyone who has participated in a Player versus Player Sea Battle before should have no trouble adhering to the game rules. The board, which can also be referred to as a map, consists of 10×10 squares and is marked with the digits 1-10 and the letters A-J. Over a hundred lockers are at your disposal. The top of the map features ten ships, which are scattered about at random. The number of ships in the game is set in stone and cannot be altered. The ships' various sizes allow for a wide variety of box configurations.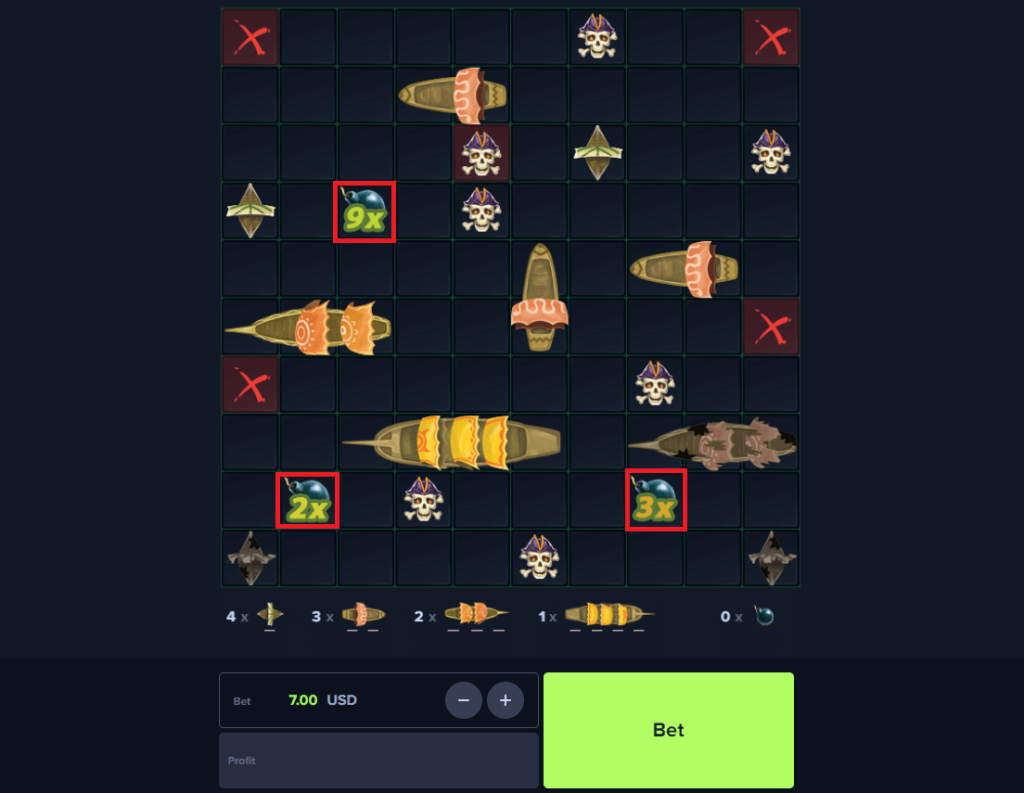 From a total of 100, twenty are packed with various ship components. Five explosives are currently in your possession. If you don't hit the right box, the number of bombs will go down, but if you do, it won't go down. Finally, you have a total of five chances at life.
Once you have successfully struck the target, you will not know the size of the ship unless it is a single-box spacecraft. If you choose to contact the smallest ship, it will instantly explode, and you will receive your winnings. If a larger ship has already taken damage, you should continue striking it from all angles until it sinks (the formation of the ship cannot be diagonal). No one can cash out until the ship goes down. There is no way to get your money back if you sell even a small portion of the ship.
Game Characters
There's more than just ships on this gaming map. Your odds can improve or worsen depending on how you use the supplementary components. Now, let's talk about the things you could find on the game map, beginning with the components.
If you manage to drop the 9x bomb piece, you'll be rewarded with an additional set of 9 bombs. You will gain 9 extra lives, bringing your total to 14. Having an extra stock of bombs to use and increase the player's chances of success is a huge boon when trying to complete difficult levels that require a lot of firepower.
If you get the symbol, you'll get an extra three or two bombs. Having gained a second chance at success, or "life," you can now take on the game with more confidence.
Skull – This piece of the puzzle is the most dangerous one the whole map has to offer. If you spin the skull symbol, you will lose all of your winnings and be forced to leave the game. There is still a chance that you will lose everything, despite the fact that you have sunk a lot of ships already. The skull position has the highest possible loss, so deciding whether or not to cash out is crucial.
Chances and Multipliers
In contrast to games like Plinko, AquaRings, and Teleport, the difficulty of Armada is fixed at each playthrough. Throughout the game, you take on the same amount of risk in each round. Each round ends with the board being revealed, revealing exactly where each ship or skull is located. Each phase's multiplier should be fully grasped. Once a ship has been destroyed, you will be able to Cashout.
1x Ship – 1.3x
2x Ship – 1.7x
3x Ship – 2.4x
4x Ship – 5x
If you want to win the game with the maximum number of points, you need to sink every ship in your range. This game has a maximum win multiplier of 70 times. Similarly to other mini games, the maximum win is $10,000. The game can be won by sinking all of the ships. The maximum payout in this game is multiplied by 70. As with most minigames, the top prize is capped at $10,000.
MyStake Armada – Thoughts and Reviews
From our extensive experience with the Armada game, we can say that it is without a doubt one of the most entertaining miniature games that can be played in any setting. Your choices and strategies will have an impact on the outcome of the game, unlike in some of the other minigames. This is a fantastic opportunity. No other casino game necessitates any sort of skill on the part of the player. Armada is primarily considered a skill game due to the fact that you may sometimes be absolutely certain of the location of the next ship component. You know the last piece is an important component of the ship despite the fact that there is a one-in-ten chance of missing the target because you can easily inspect it from every angle. Do not miss this once-in-a-lifetime chance to put your reasoning skills to the test.
It's more fun to play when there's a mix of both skill and luck involved. Armada has quickly risen to prominence among gamers all over the world. Tiktok and Instagram influencers, Youtubers, and bloggers actively promote the content they produce by playing this game across all of these platforms because it makes such great content. Our feelings about recommending the game to others are very strong.